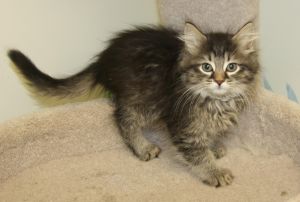 A couple weeks ago my wife and I drove up from Cincinnati and adopted Elise, one of your kittens. Wanted to give you an update.
In the room with the mother and other kittens, Elise was one of the more timid kittens. It took a couple days playing with her with string toys, but she has become such an active wildly playful tyke, we couldn't be happier. She never purred for us in the shelter, but now can keep me awake at night if she starts purring by my pillow.
We will continue to keep her confined to the bedroom for the immediate future as our senior cat isn't crazy about her, and when we let her out she is so focused on exploring that it can be hard to corral her.
Thank you again for trusting us so distant from your shelter and for allowing us to adopt this marvelous kitten. I hope all your other adoptions turn out equally well.
Don and Sheree Stephan